Aerial Pipeline Surveillance
Range Helicopters Inc (RHI) specializes in Aerial Pipeline Surveillance, flying over 50,000 km in pipeline annually. With a broad range of clients we can tailor our service to meet any specific requirements.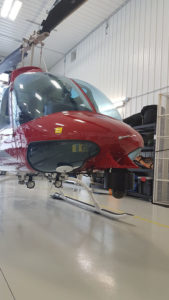 Our President, Chris, is part of the third generation in his family to be wholly submersed in the Canadian Oil and Gas industry. With his experience and knowledge base in both upstream and midstream oil and gas, Chris and his team have been able to develop a safe, efficient, and effective operation specializing in aerial pipeline surveillance and right of way inspections.
Chris and his team pride themselves in making sure you always have knowledgeable eyes in the sky and strong deliverable to get the best value out of the inspections.
Our company can provide your organization with turn-key services from GIS acquisition to the end product of reports; geospatial embedded video, and maps. RHI acquires geospatial pipeline right of way data using only corrected data from IHS data base so there are no questions of precision when flying your pipeline right of ways.
All pipeline surveillance missions are executed with GPS data logging for coverage verification of pipelines intended to patrol.  Any anomalies found during patrols are noted and geotagged, as well as photographed with a geostamped photo.  If any serious anomalies are discovered, they are reported to the client immediately by phone and email with geostamped pictures.  This information is compiled into full reports along with maps of the pipeline right of ways that were covered.
Pipeline Inspection
Pipelines are flown with a trained pilot and observer, both of which are familiar with Alberta Energy Regulations (AER) and BC Oil and Gas Commission (BCOGC) regulations to ensure that qualified personnel are inspecting the right of way.  Trained "eyes" have proven in history to be most effective stand-alone tool for leak detection as well.  The "eyes" will be on a continual scan for the following:
Spills or leaks
Exposed pipe
Slope stability anomalies
Ditch settlement
Erosion anomalies
Vegetation anomalies
Third party activity
Encroachments
Missing signs & markers
Any additional requirements of specific observations can be executed if requested.
True Colour Video
Sometimes our client requires a good video log as a record showing what their pipelines looked like at a given time.  Our camera system can run both True Color along with a thermal image in a "picture in picture format" all with time, date, and geo spatial data embedding into the video in real time.
Leak Detection Tools
Thermal Video Leak Detection
RHI utilizes a high resolution infrared camera acquiring both thermal video and still images. This video is geospatially encoded and can be made into different media formats.  Our Thermal Imaging Detection can reveal very small changes in surface temperatures which could be an indication to a possible underground leak.
Laser Gas Detection
Our Laser Gas Leak Detection System samples the air which travels through a collection tunnel for methane concentrations at a rate of 3 times per second ensuring tight coverage.  This system can quantify the methane concentration to an accuracy of 0.01PPM.  If the methane concentration surpasses a predetermined set point an audio and visual alarm will set off in the aircraft alerting the crew to a potential anomaly.  Once alarmed, the crew commences further investigation and reporting.